COVID19 Precautions and Reopening Details
Thank you for your communications regarding our reopening timeframe.  Your continued participation in our virtual classes has been AWESOME and your thoughtful check in's with us have made all the difference.  Because some restrictions are being reduced, the opportunity to gradually reopen the studio is here.  Below are anticipated dates/times/information about the services we plan to offer in the coming weeks.
---
SAFETY PRECAUTIONS
This week we are gradually bringing people back into the studio for private sessions.  Moving forward we will all be using the following precautions:
– People at the studio must not exhibit any symptoms
– Hand washing upon entering the studio
– More time between appointments & classes for people arriving and leaving
– Utilization of multiple doors for entry/exit at the studio
– Social distancing of 6′, no tactile cueing
– No more than 10 people on-premises
– Everyone wearing masks
– Strong disinfectant cleaner used on equipment
With the opening for group classes the week of 5/18/20 we are strategically planning class times to reduce people overlapping.
---
STUDIO EQUIPMENT SPACING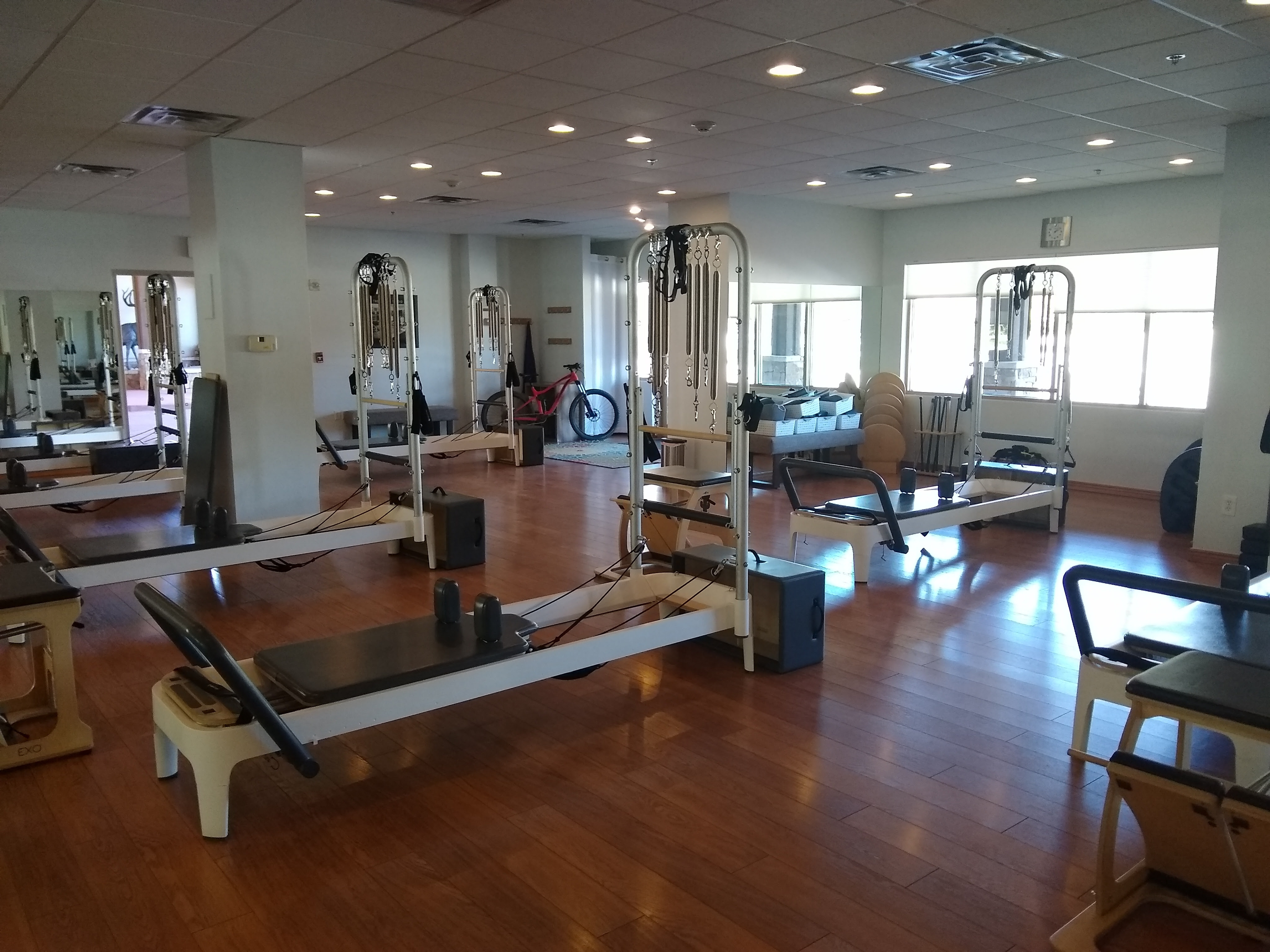 Our beautiful large space continues to be one of our favorite things about Synergy! To maintain safe social distancing during classes the machines are SPREAD OUT!  We kind of like it even more this way 🙂
---
IN-STUDIO PRIVATE TRAINING SESSIONS
In-studio private / semi-private training sessions are available.  To  keep the number of people to a minimum our instructor team is splitting time at the studio and keeping reduced hours.  Please contact your instructor or SEND AN EMAIL to request an appointment.
---
IN-STUDIO & VIRTUAL CLASSES
We anticipate offering in-studio small group equipment classes, Monday, May 18, 2020.  Monitoring CDC  and local health professionals' recommendations will be key.  (If COVID cases increase we will extend to June 1, but for now, we plan to return May 18.)  Please check the ONLINE SCHEDULE for class listings.  *It is important to check the schedule regularly during this transition.*
Our virtual class offerings will continue through May!  We are excited to offer both in-studio classes and virtual classes.  Just like in equipment classes the virtual class instructors provide modifications for progressions and safety.
Your existing membership or class package may be used to register for classes.  In addition we offer discounted pricing exclusively for the Virtual classes as we know many of us are financially tightening our belts.  CLICK HERE to REGISTER for CLASSES.
---
MORE ABOUT THE VIRTUAL CLASSES
Virtual classes will continue through May 2020.  Join our online community, we love seeing you from your homes near and far!
– Register for class at least 30 minutes before the start of class so the instructor can send you a link to the meeting.
– Our 24-hour class cancellation policy still applies.  We value our instructors' time.
– Classes will be 50 minutes to allow for virtual meeting joining.
After you register an email will be sent from your instructor before class with instructions on how to join the meeting and with any other details about the class.  Please be sure to ask us any questions and let us know how we can help!
Core on the Floor special pricing:
Single class $18
3 pack $50